Medical School Admissions Coach | MS4 Perelman School of Medicine
Studied at University of Pennsylvania
Works at University of Pennsylvania
Available tomorrow at 2:30 PM UTC
Please don't hesitate to reach out for scheduling. I am a lot more flexible currently in my MS4 year, but starting summer 2024 my availability may decrease as residency starts.
Questions? Start chatting with this coach before you get started.
Khalid's Coaching Offerings
Custom hourly coaching
·
$50/hour
Get help with School Selection, Application Strategy, and .
Khalid's Group Classes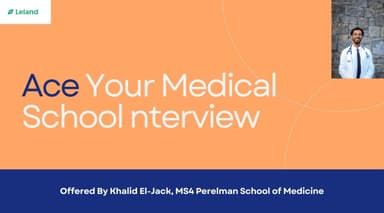 Medical School Interview Walkthrough | ACE Your Next Interview!
$15 per attendee
Khalid's Medical School Qualifications
10+ people coached for Medical School
Open to working with clients outside the U.S.
Hello! My name is Khalid, and I am an MS4 at the Perelman School of Medicine at The University of Pennsylvania. I have first-hand knowledge of the intricacies of the medical school admissions process, having been admitted to 11 medical schools including Johns Hopkins and Cornell. In addition, I was incredibly thankful to receive several full-tuition merit scholarships including one at Penn. I have successfully mentored many students, helping them obtain acceptance to their top medical school of choice. Beyond this, I have authored a guide for Pre-Medical Students that has sold hundreds of copies on Amazon titled "The Pre-Med Planner." From personal statements to interviews, I provide comprehensive coaching tailored to each individual's unique strengths and experiences. Let's work together to create a compelling application that showcases your potential and sets you apart from the competition. Reach out to me today to get started on your journey!
About Khalid
Experienced coach in preparing for the medical school admissions process as well as a career in medicine. I provide a unique perspective within the admissions process having had past experience interviewing and interning at the financial firm Goldman Sachs. I began admissions coaching during my own medical school application after having created a course via the site SkillShare highlighting my entire application. After receiving overwhelmingly positive feedback, I began doing one-on-one consultations with past students. Since then, I have provided one-on-one services for the last four years tailoring my advice to the needs of each applicant. If you have any questions feel free to reach out, and I look forward to working with you soon.
Work Experience
Pre-Medical School Student Mentor
University of Pennsylvania
Market Research Analyst
PRA Health Sciences
January 2020 - August 2020
CSOFT Health Sciences provides translation and localization services for companies within the healthcare and life sciences space. In my role, I complete market research for potential clients as well as train the sales team on the scientific knowledge that is required to successfully interact with leaders in the healthcare industry.
Member
City Year
August 2019 - January 2020
The City Year Americorps Program assists students in underfunded schools across the United States to maintain positive lifestyle choices and sustainable academic progress. Under this program, I taught 5th-grade mathematics with a partner teacher at the Orchard Gardens K-8 Pilot School in Roxbury, MA. Additionally, I was a tutor and mentor at the Boys & Girls Club of Boston, where I ran after school programs for my students. Within my role, I assisted students to remain on track with classroom goals as well as with graduation protocols through one-on-one and group tutoring sessions.
Research Program Manager
National Institutes of Health
The SUMR program provides underrepresented minority students the opportunity to explore health services research. Under this program, I worked on two projects with Dr. Scott Halpen and Dr. Carmen Guerra, respectively. With Dr. Halpern, I tested the comparative effectiveness of strategies for smoking cessation among underserved patients eligible for lung cancer screening, and with Dr. Guerra, I conducted a cost-effectiveness analysis of the Penn Medicine Colorectal Cancer Screening Navigation Program. Through SUMR my understanding of research has expanded to include qualitative measures, and in health services research I have found a connection between business and medicine that interests me.
Stress Analyst
Beth Israel Deaconess Medical Center
The Clinical Physiology Lab at BIDMC completes exercise and pharmacological stress tests for both in-patients and out-patients. I had the responsibilities of preparing patients for the tests by taking patient histories, placing electrodes on patients, and getting consent for the tests. I also would scribe the results of the test with a technician. This opportunity was incredibly valuable to me as I experienced first-hand the collaborative nature of the medical field; to complete a test, I had to effectively communicate results to physicians, physiologists, interpreters, and technicians. I also gained experience in reading EKGs, and this has sparked a potential interest in cardiology.
Private Wealth Management Intern
Selected as a Private Wealth Management Intern as well as recipient of the Founder's Scholarship. Experienced in financial internship recruiting as well as networking into selective internships.
Education
University of Pennsylvania
Boston University Questrom School of Business
Bachelor of Science (B.S.), Human Physiology
---
Khalid has helped Leland clients get into Hackensack Meridian Health
Loading reviews...