99th percentile GRE coach with 8 years experience
Studied at Harvard University
Works at Manhattan Prep
Available tomorrow at 7:00 PM UTC
I only work with 3-5 clients at a time, and so my availability is often limited. You are still welcome to reach out if you are interested in working together; if we feel there is a fit, I do also keep a waitlist.
Questions? Start chatting with this coach before you get started.
Cat's Coaching Offerings
Custom hourly coaching
·
$225/hour
Get help with Quantitative Reasoning, Verbal Reasoning, and Analytical Writing.
Cat's Group Classes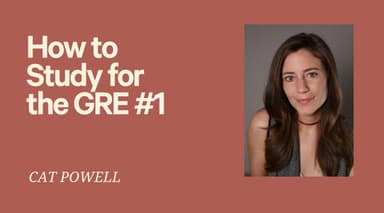 How to Study for the GRE #1 - Diagnosis and Planning
$70 per attendee
Cat's GRE Qualifications
500+ people coached for GRE
Open to working with clients outside the U.S.
I've been helping clients achieve their GRE goal scores since 2015, when I was hired by Manhattan Prep, an elite test prep company that required a 99th-percentile GRE score, over forty hours of rigorous training, and multiple professional assessments before I could even teach my first class. Although I'd already been teaching and tutoring for years, Manhattan Prep is where I truly began to master the challenging and joyful craft of teaching. I've since taught the GRE to hundreds of students, many of whom have gone on to top-tier graduate and MBA programs, including Dartmouth, UPenn, Stanford, UVA, and Harvard. I've trained dozens of other elite GRE instructors and have planned and run three professional development conferences for GMAT, GRE, and LSAT instructors from around the world. I've helped to write TOEFL and GRE books and curricula and have built an interactive online GRE course. I've also co-written and performed in a GRE vocabulary YouTube series with over 1 million views. I did my first graduate degree in Cape Town, South Africa, which is also where I started teaching standardized tests. I've since worked with students from more than twenty countries on every continent except Antarctica (if you are on an Antarctic research station and want to take the GRE please hit me up). Getting to know and work with talented people from all over the world is one of the best parts of my job. I firmly believe that anyone can improve their GRE score with time and effort. As a GRE coach, I can help ensure you use that time and effort as efficiently and effectively as possible. I get to know each of my clients as a complete individual and create tailored plans for their particular needs. Sometimes my job is about finding the best way to help a client understand the applications of a geometry rule, and sometimes it's about encouraging someone to change deeply held narratives about their relationship to math (or tests in general). I am also a published fiction writer, so I know what it is like to pursue a long, difficult task that no one is paying you for! Procrastination, limiting self-talk, and anxiety are issues I've grappled deeply with in my own life and work as well as in my coaching, and I love helping clients conquer these challenges. My primary goal is to help you get an excellent GRE score; my secondary goal is to help you build habits and skills that will serve you in graduate school and beyond. I strive to provide coaching that is compassionate, calm, personalized, and, wherever possible, fun.
About Cat
I'm a writer and teacher from New England, though I now live in New York City. I've been to grad school twice—first in South Africa, then in New York—and I initially started teaching standardized tests to support myself while in school. I soon found that I loved the craft of teaching almost as much as I loved writing, and I now split my days between the two pursuits. Both teaching and writing fiction require creativity and a curiosity about what goes on in other people's minds, and both are enriched by balancing a sense of humor with intellectual rigor. I've published fiction in a number of journals, am represented by a top NYC literary agency, and am currently in the process of selling my first novel. Outside of work, I enjoy reading, surfing, dancing, weightlifting, and riding motorcycles. I collect houseplants and tattoos, and I live with a rescue dog named Mildred.
Why do I coach?
My secret is that I don't like standardized tests! I think they're a nuisance. But this is also why I love helping people defeat them. I want all of my clients to get their goal scores as quickly as possible so that they can move on to more exciting things in their lives. I particularly enjoy helping students who've had bad experiences with standardized tests in the past and who struggle with test anxiety. I believe that anyone can improve their performance on the GRE with time and effort; as a tutor with many years experience, I can help you use your time as effectively as possible and make sure you are applying effort in ways that are guaranteed to yield results. My favorite part of my job is getting to work with people who are at moments of transition: taking their first steps into independent adulthood, making career changes, investing in better futures for themselves and their families, etc. It's a pleasure and an honor to help others transform their lives. I've had a lot of opportunity and privilege in my own education, and teaching is a meaningful way I can share those benefits and experiences with others. I particularly enjoy helping international and first generation students navigate the American admissions landscape.
Work Experience
Consultant
*Coached students from start-to-finish in the Common Application and supplements *100% of package clients accepted to top-choice schools, including early admission at Stanford, Cornell, and NYU
GRE Instructor
*Taught hundreds of students in group classes and one-on-one *Helped students secure admission to leading MBA programs, including Wharton, Stanford, Tuck, HBS, Darden and more *Wrote and performed in a YouTube series with 1 million+ views *Co-created an asynchronous online GRE course *Managed and trained 30+ instructors in US and UK
Undergraduate Writing Instructor
Columbia University in the City of New York
September 2018 - December 2018
*Developed and taught introductory undergraduate fiction workshop