Expert Dental School and Residency coach for non-traditional candidate
Studied at University of Kentucky College of Dentistry
Works at Private Practice
Admissions Committee Experience
Available Thursday at 4:00 PM UTC
Questions? Start chatting with this coach before you get started.
Cristina 's Coaching Offerings
Custom hourly coaching
·
$95/hour
Get help with Essays, School Selection, and .
Cristina 's Group Classes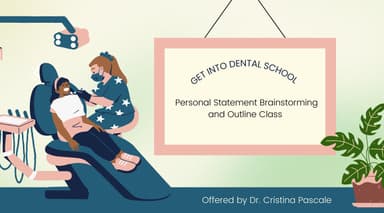 Brainstorming Personal Statement Ideas
$30 per attendee
Cristina 's Dental School Qualifications
100+ people coached for Dental School
Open to working with clients outside the U.S.
As your Dental School and Specialty Residency Consulting coach, I am passionate about helping aspiring dental students navigate the challenging journey toward dental school and residency admission. With a strong background in dentistry and a deep understanding of the dental and residency process, I am uniquely positioned to provide you with the guidance and support you need to succeed. I offer a personalized approach, tailoring my coaching to your specific strengths, weaknesses, and aspirations. From crafting a compelling application and acing interviews to excelling in prerequisite coursework and dental admissions tests, I will be your dedicated mentor every step of the way. I aim to empower you with the knowledge, strategies, and confidence required to secure a spot in the dental school of your dreams. Together, we will turn your passion for dentistry into a successful and fulfilling career. Choose me as your Dental School and Residency Consulting coach, and let's embark on this transformative journey together.
About Cristina
I am a graduate of Midwestern University College of Dental Medicine and currently work in Private Practice. I will attend an Endodontic residency program in the Summer of 2024 at the University of Kentucky. Before pursuing dentistry I worked as a Biomedical researcher obtained a degree in Fashion design and worked in the NYC Fashion industry. I understand the path of traditional and non-traditional students trying to get into dental school and residency programs and want to share my knowledge and expertise.
Why do I coach?
I have been mentoring and tutoring students since I was an undergraduate at Rutgers University. It began as tutoring but slowly evolved to helping high school and pre-dental students with applications, personal statements, and test prep. My coaching style is very personalized to what my clients need. I prefer a hybrid method that involves virtual meetings along with independent working time to help you reach your goals, but if you want someone who only talks to you over text or someone who only talks to you over Zoom - I'm flexible! Let's figure out what works for us.
Work Experience
Dentist
• Manage, examine, and diagnose a diverse patient pool • Develop and present comprehensive treatment plans to patients • Address the patient's comprehensive treatment needs • Collaborate frequently with specialties, Ortho, OS, Endo, Perio, Prosth, and Radiology to achieve favorable outcomes for comprehensive treatment
Academic Tutor
• Provide one-on-one & group tutoring in the Biological Sciences, General & Organic Chemistry and DAT • Implement student assessment techniques. • Application and Essay consultant
Dental Assistant
• Prepare & set up operatories • Assisted Dentist Chairside • Sterilized dental instruments
Fashion Designer
• Worked with fabric development teams researching new innovative chemistries, finishes and fabrics that push the envelope of quality and environmental metrics while maintaining design aesthetic • Developed and maintain relationships with suppliers around textile processing and worked with them on integrating chemical management practices throughout the process • Facilitated relationships with third party certifying bodies in industry linked to textile chemistry and toxins management
Biomedical Scientist
Mount Sinai Health System
July 2006 - September 2007
Nephrology Department Contributed and led multiple research projects on the characterization of a nucleic acid transporter in nephrology cells. This research has led to the identification and partial characterization of a plasma membrane protein complex that functions as a highly selective nucleic acid-conducting channel. To date the substrate specificity of the channel has been defined and several channel blockers identified.
Biomedical Scientist
Microbiology and Biochemistry Dept. Contributed and led multiple research projects on the regulation of gene expression in response to heavy metals exposure by hyper-thermophilic archaeal organisms. We employed biochemical and molecular biology tools in addition to microarray technology to predict functional roles of unknown genes, characterize proteins and regulatory networks involved in heavy metals metabolism.
Education
University of Kentucky College of Dentistry
Certificate , Endodontics
Midwestern University College of Dental Medicine-Illinois
Admissions Committee Experience
Midwestern University College of Dental Medicine-Illinois
Fashion Institute of Technology
Rutgers University
BS/ BA , Microbial Biotechnology/English