Harvard MBA | ex-Eng & PM in big tech | founder
Studied at Harvard Business School
Worked at Salesforce
Available tomorrow at 1:00 PM UTC
Questions? Start chatting with this coach before you get started.
---
Anjali's Coaching Offerings
Custom hourly coaching
·
$85/hour
Get help with Essays, School Selection, and .
---
Anjali's Group Classes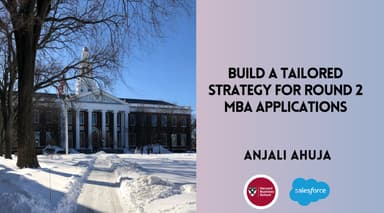 Building a Round 2 Application Strategy
$30 per attendee
---
Anjali's MBA Qualifications
Open to working with clients outside the U.S.
I've spent many years coaching and mentoring peers and students throughout various academic phases and on multiple career topics. During my own MBA application process, I tapped my network of mentors and coaches to help guide me through a somewhat complicated admissions journey. I feel excited and equipped to pass down that knowledge & my own personal experience I've gained through the Harvard MBA. I'm also a Yoga teacher and am training to be an executive coach-- so I take a personal approach that entails active listening to ensure I am really getting to know you before trying to translate your story into an application format.
---
About Anjali
HI! I'm Anjali. I recently graduated from my MBA at Harvard Business School and am currently building a startup in the healthcare x AI space. Prior to business school, I spent five years at Salesforce in San Francisco. I started my career as a User Experience Engineer and then a Product Strategy Lead- helping to drive strategy for the Salesforce acquisition of Slack just before leaving to get my MBA. I received my B.S. in Computer Science from USC and have always been a builder at heart. I had an unconventional path to business school - switching from big tech to an entrepreneurial journey in an industry I had no formal experience in. I'm excited to coach anyone on their journey to achieving their long-term career goals but feel especially excited to coach folks with a technical or product background considering an MBA. In my free time, I teach yoga, enjoy hiking and watching reality TV shows!
---
Why do I coach?
Mentors have been a critical part of my path...from getting my first job, to getting my MBA and to now becoming a founder. I would not be here without the people who carved the way for me- reading my applications, conducting mock interviews with me and helping me uncover on my life story to put in many application essays. I've mentored many folks in the past both in my job and while at school and have discussed with the pros/cons of business school with countless friends and people in my network. I'm excited to coach you in the ways others have helped me!
---
Work Experience
Lead Product Strategist
Salesforce
February 2020 - June 2021
Collaborated with PMs, Engineers and User Researchers to drive high-priority product strategy including Salesforce acquisition of Slack and roll-out of remote work tools for companies during COVID
---
Education
University of Southern California
Bachelors in Science, Computer Science
Anjali was also personally admitted to
Kellogg School of Management (Northwestern)