PM and APM Jobs for Big Tech & Startups | LinkedIn & Series A Startup PM
Studied at University of California, Los Angeles
Worked at LinkedIn
Available Thursday at 2:30 AM UTC
Usually responds within 5 hours
Questions? Start chatting with this coach before you get started.
Tyler's Coaching Offerings
Custom hourly coaching
·
$175/hour
Get help with Product Case Interview Prep, Networking Strategy, and .
Tyler's Group Classes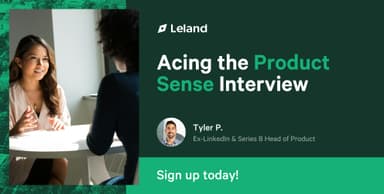 Acing the Product Sense Interview
$25 per attendee
Tyler's Product Management Qualifications
Experience level: Group Product Manager
20+ people coached for Product Management
Open to working with clients outside the U.S.
Tyler has helped clients get into these companies:
I am the coach for you if you are: (1) college student looking to break into top APM and BizOps internships and full-time opportunities (-> I landed LinkedIn Strategy & Analytics - 0.1% acceptance rate out of UCLA) (2) young professional wanting to transition to PM inside or outside of your company (-> I transitioned to APM at LinkedIn and landed external PM role at Zendesk with <1 year experience) (3) interested in making the dive into startups more broadly (-> I led product at a Series B startup and recently got accepted to YC for my own startup) With my experience as a PM in big tech at LinkedIn and Zendesk, head of product at a Series A->B startup, and startup founder, I am uniquely qualified to coach you to achieve your career goals. I've interviewed over 100 PM candidates at big tech and startups, was recognized as the best PM interviewer in Zendesk product management org, hired 2 PMs during my time as a manager, and helped PMs land offers at top companies such as LinkedIn, Dropbox, Nextdoor, Zendesk, and more.
Tyler can help with:
Product Case Interview Prep
Behavioral Interview Prep
Influence & Collaboration
About Tyler
Hi there, I'm an experienced PM and founder with a background in product-led growth at global tech companies and 0-1 product management at early stage startups. - Started out my career in LinkedIn's Strategy & Analytics program, where rotated through business functions including Data Science, Business Operations, and M&A - Transitioned to product management at LinkedIn where I led a growth team to acquire and retain LinkedIn subscribers - Joined Zendesk's Growth & Monetization team as a PM with <1 year of PM experience - Led a 15+ product development organization as Head of Product for a Series B quick commerce startup in London - Launched my own startup and got accepted to Y Combinator I'd love to help you land your dream job in product management and startups - please reach out today! Fun facts about me: - I'm a triplet (although we look nothing alike), from San Diego, and graduated from UCLA. - I'm an avid skier - I skied 25 days and all 10 of the West Coast mountains on the Epic pass in 2021 - I love traveling - I currently live in London and I traveled to 8 new countries in 2022.
Work Experience
Founder
Rapidly developing and testing product concepts through user interviews, market analysis, and building prototypes. With this strategy, we've successfully launched 2 products in-market: PowerModeAI.com, AI-generated slide deck platform (21K+ MAUs) and Autopia, Jira Co-Pilot for developers (500+ WAUs)

Head of Product
Quick Commerce
January 2022 - January 2023
Moved to London and owned the mobile app & commerce platform for a Series A->B quick commerce startup backed by Lightspeed; led 15+ development team and managed 3 PMs. Reported to CEO/Founder. Established product vision and led redesign of the mobile app. Achieved #1 NPS at +83, scaled the app to 60K+ WAUs, and captured $XXXK+ ARR by going 0-1 to launch a luxury brand shopping experience.
Product Manager, Growth & Monetization
Zendesk
September 2020 - January 2022
Drove growth for self-serve and enterprise products at Zendesk; led 30+ cross-functional team to improve self-serve conversion +XX% and unlock $XXM in ARR through sales-assisted purchase experience. Went 0-1 to build Zendesk's first ever product recommendation engine, designed to replicate a sales conversation with a customer and recommend what to purchase.
Product Manager
Led growth product across acquisition, activation, and retention for LinkedIn Sales Navigator. Achieved +XXXK all-time high signups, resulting in Sales Navigator becoming LinkedIn's fastest growing LOB. Member of 6-person 2018 class of the LinkedIn strategy & analytics rotational program (<0.1% acceptance rate). Rotated across LinkedIn's consumer, jobs, advertising, and sales product lines.
Education
University of California, Los Angeles
Bachelor's, Business Economics
Major in Business Economics and Specialization in Computer Science
Tyler was also personally admitted to
University of Southern California

University of California, Berkeley
---
Tyler has helped clients get into these companies:
Loading reviews...