PE Senior Associate at top buyout fund with 7+ years experience in finance
Studied at Harvard Business School
Worked at Apax
Available tomorrow at 9:00 AM UTC
Usually responds within 4 hours
Questions? Start chatting with this coach before you get started.
Asha's Coaching Offerings
Custom hourly coaching
·
$195/hour
Get help with Technical Interview Prep, Networking Strategy, and .
Asha's Group Classes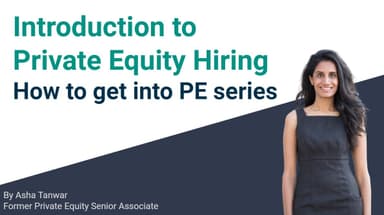 Intro to Private Equity Hiring
$79 per attendee
Asha's Private Equity Qualifications
Experience level: Senior Associate
10+ people coached for Private Equity
Open to working with clients outside the U.S.
I have spent over 7 years in finance, interviewed at over 50 PE funds and recruited for the PE fund i previously worked at. I have a deep understanding of how to prep for interviews, make your application stand out and most importantly, stay focused on the goals to find the right fund for you.
Asha can help with:
Behavioral Interview Prep
Asha also coaches for MBA, Investment Banking, and Venture Capital
About Asha
I'm an Harvard Business School grad with over 7 years of experience in investment banking, VC and PE. I offer coaching for MBA applications, investment banking, venture capital and private equity: - PRIVATE EQUITY - I worked at Apax Partners ($60bn AUM) as a Senior Associate where I had interviewed and evaluated several analyst and associate applicants. I've spent my career in New York and London and can speak to the working styles and culture in both places. I have helped several people get offers from top funds (Blackstone, KKR, Apax, HIG, Vista, Thoma Bravo, amongst others). Having been on the other side of the table, I understand the importance of preparing well and acing the resume, interview and case study to land your dream role. - INVESTMENT BANKING - I spent 5-years at top investment banks (J.P. Morgan, Deutsche Bank) and received 5+ offers from other top bulge bracket banks. As a senior associate in banking, I reviewed applications and interviewed candidates for analyst and associate roles regularly, and therefore I understand the process and what is takes to succeed well. I have helped several students get offers from top banks including J.P. Morgan, Goldman Sachs, Barclays, Morgan Stanley to name a few. - MBA APPLICATIONS AND APPLYING TO HARVARD - I have been offering MBA and application coaching for the last 4-years, focusing on acing your application to Harvard Business School. I will work with you to refine your story, craft your essay and create a personalised timeline suited to your needs and level of prep. I have helped more than twelve students get offers from Harvard over the past two years and I look forward to helping give you your best shot! - VENTURE CAPITAL - I have been an active angel investor since 2019 and have a strong network within VC in the US and Europe. I interned with General Catalyst and Dawn Capital and have helped several candidates land a role at their dream VC fund. I spend time carefully tailoring a package for your journey, from resume and LinkedIn review, to building a networking strategy and creating a role for yourself!
Why do I coach?
I love helping people achieve their dreams as once upon a time mine also felt far-fetched! I owe my career success to many different people who helped and mentored me and now I am keen to give back to the community by helping the next generation.
Work Experience
Asha was also given offers to work at
Goldman Sachs

Morgan Stanley

Barclays

Credit Suisse
Education
London School of Economics and Political Science, University of London
Bachelor of Science, Economics
Asha was also personally admitted to
Stanford Graduate School of Business
---
Asha has helped Leland clients get into Nomura
Loading reviews...