70% Off Hourly Rates! ~ Ex-McKinsey MBA Admissions Professional Coach
Studied at Columbia Business School
Works at Espeland Enterprises
Available October 9 at 9:30 PM UTC
Usually responds within 1 hour
Questions? Start chatting with this coach before you get started.
---
Melanie's Coaching Offerings
Custom hourly coaching
·
$333/hour
Get help with Essays, School Selection, and .
---
Melanie's Group Classes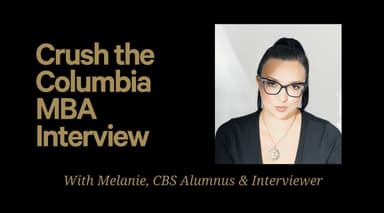 Crush the Columbia MBA Interview ~ from an Alumnus Interviewer
$25 per attendee
---
Melanie's MBA Qualifications
80+ people coached for MBA
Open to working with clients outside the U.S.
~~~ I'M OFFERING 70% OFF HOURLY COACHING. USE DISCOUNT CODE melanie-e-222888 ~~~ MELANIE has 8 years of experience in MBA admissions consulting with proven results in M7 programs (including HBS and GSB), Top 20 Programs, and Executive MBAs. She pairs her ex-McKinsey consulting toolkit with her sharp communication skills and EQ as an Executive Coach. This rich blend of skills allow Melanie to be an excellent admissions consultant with an eye for detail and heart for crafting her clients' unique stories. Additionally, as a trained Voice Actor represented by CESD Talent, Melanie provides a unique perspective on admissions interviews and creating executive presence. • Coaching and Mentoring: One of my callings is coaching and advising others, and I have 8 years of experience in coaching and mentoring roles for sophisticated individuals. Firstly, I have been an MBA Admissions Consultant since 2015 and have worked both for firms as well as for myself. This experience has spanned top American and European programs and a track record of success with M7 schools including HBS and GSB. Secondly, I have been an Executive Coach for several years working for my own business Espeland Enterprises, where I've had the opportunity to serve senior level professionals across iconic firms such as Google, Morgan Stanley, and KKR. • Writing and Editing: With both my MBA Admissions clients and executive coaching clients, I have gained extensive experience ideating, writing, and editing professional documents such as essays, resumes, and LinkedIn profiles. My writing abilities include tone, grammar, syntax, word choice, style, flow, format, transitions, effective introductions and conclusions, and responsiveness to the essay question. Additionally, I have written blogs, articles, and speeches for myself including my TEDx talk on executive presence. • Excellent Communication: I am a people person who can "talk to a wall" as the adage says and can quickly build rapport with new clients. I am comfortable working with individuals of diverse backgrounds including non-traditional career paths.
Melanie also coaches for Executive & Leadership
---
About Melanie
Melanie is an Executive Coach & Admissions Coach with 16 years of experience across strategy, operations, and coaching. A former McKinsey consultant, she is a member of the Forbes Council and has been featured on NBC, ABC, CBS, Business Insider, TEDx, and more. Melanie has worked with prominent corporate clients including Google, KKR, IBM, and Morgan Stanley; as well as individuals such as business leaders, influencers, and Olympic athletes. Today, Melanie manages Espeland Enterprises, her coaching firm. She offers expertise in MBA Admissions and Executive Coaching. Melanie holds an MBA from Columbia University and a BS from Cornell University. She currently lives in Los Angeles (while remaining a New Yorker at heart), and enjoys creative pursuits in her free time. You're welcome to learn more about Melanie by watching her videos: --Melanie's TV appearances: https://www.youtube.com/watch?v=U8gMHwQ9sEw --Melanie's TED Talk: https://www.youtube.com/watch?v=PXPBtO8RX58&t
---
Why do I coach?
Coaching and mentoring is my calling! I have been a natural mentor since childhood and am grateful to be a Coach as my career.
---
Work Experience
---
Education
---
---
Melanie has helped Leland clients get into Harvard Business School
Loading reviews...