Experienced GMAT tutor - I scored 770 and have helped others score 750+
Studied at Chicago Booth
Works at Boston Consulting Group
Available today at 7:00 PM UTC
Usually responds within 2 hours
Questions? Start chatting with this coach before you get started.
Timothy's Coaching Offerings
Custom hourly coaching
·
$150/hour
Get help with Quantitative Reasoning, Verbal Reasoning, and .
Timothy's Group Classes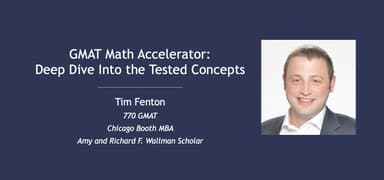 GMAT Math Accelerator: Deep Dive Into the Tested Concepts
$25 per attendee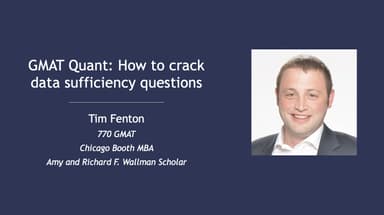 GMAT Quant: How to crack data sufficiency questions
$25 per attendee
Timothy's GMAT Qualifications
10+ people coached for GMAT
Open to working with clients outside the U.S.
I scored 600 on my first GMAT practice test and scored 770 when I took the real exam. Acing the GMAT requires a thoughtful strategy. I will help you identify where to invest your time and partner with you from start to finish. My proven approach has worked for many others, and it will work for you!
Timothy also coaches for MBA and Management Consulting
About Timothy
I have helped many applicants successfully gain admission to top MBA programs both in the US and in Europe. I worked as an admissions fellow at Chicago Booth. In this role, I interviewed and reviewed the application details of almost 100 applicants across multiple quarters. I understand how to craft a dynamic story that will jump off the page for Ad Comms. Before pursuing an MBA, I started my career at Goldman Sachs, supporting prime brokerage clients with cash and security instruction and settlement. I am currently a project leader at Boston Consulting Group, advising clients mostly in the Gen AI, enterprise transformation, and org design practice areas. At BCG, I have supported clients with pricing strategy, org design, labor optimization, technology integration, and market analysis projects. I am a client service expert and can share valuable insight into how to successfully recruit and be successful at a top-tier investment bank or consulting firm. I earned a B.S. in Economics and in Finance from Utah State University and an MBA with high distinction from The University of Chicago Booth School of Business, where I graduated as an Amy and Richard F. Wallman Scholar.
Why do I coach?
I feel strongly that the application process can be a transformational step in the MBA journey. By truly understanding my MBA goals and what I could contribute to Chicago Booth, I was prepared to hit the ground running on day one of his MBA. I used a coach when studying for the GMAT and applying for business school and again when applying for consulting jobs. In both cases, the strategic support helped me gain confidence and a deep understanding of what it would take to be successful. When working with clients, my support extends beyond that of a consultant. I am empathetic to the difficult aspects of the process and can help applicants develop a personalized strategy across the entire application journey. I partner with each client as a mentor and friend to craft a personal brand and complete story to achieve success at the most competitive programs.
Work Experience
Project Leader
In my role at BCG, I manage teams of 3 - 8 consultants, primarily working in the Gen AI, org design and enterprise transformation practice areas to unlock value and productivity for Fortune 500 companies. Examples of my work include: -- Transformation management: US entertainment retailer with $7B in annual sales: Conducted store hour analysis and implemented regional hour adjustments, increasing sales by $12M annually -- Pricing strategy: US discount retailer with 16k stores and $22B in annual sales: Identified key value items and set national zone pricing strategy, driving $60M in sales and $25M in profit annually -- Operating model design: US Aerospace & Defense company with $1B in annual sales: Set layer 1 - 3 reporting structure and designed 8 unique organization structures for each of their business lines, enabling multiple planned acquisitions -- Automation strategy: Shipping and supply chain management company with $100B in sales in North America: Conducted market analysis to identify automation opportunities in parcel loading, sortation, and last-mile delivery; Developed execution playbook with near-term investment opportunities: Organization design: -- Health insurance company with $90B in sales in North America: Led the central management team for large scale organization re-design to achieve $600M in cost savings annually; Managed a team of 6 consultants to conduct 2x weekly leadership planning sessions, coordinate across 12 organization design pods, train 30 HRBPs, track all project savings and risks, and incorporate outcomes into client budgets -- Organization design: Technology logistics company with $800M in sales across North America and Europe; Managed at team of 4 to conduct holistic organization re-design and achieved $40M in annual personnel cost savings; Supported design implementation including communication management, data integration, and financial budget updates
Associate
Goldman Sachs
October 2014 - August 2018
I supervised team of 4 analysts/associates, including daily instruction, approval, and settlement of $800M in security transfers for hedge fund clients in prime brokerage department. I facilitated weekly meetings with managers of 8 cross-functional teams in US, Singapore, Poland, and India to execute payment automation strategy, saving $480K+ annually. I led team of 10 charged with increasing associate retention rate; Introduced lateral hire integration, VP mentoring, and associate appreciation programs, leading to 6% increase in retention rate over 5 months. I ranked in top 10% for all performance reviews in all evaluation categories for four consecutive years.
Education
Chicago Booth
1 year, Admissions Fellow
Admissions Committee Experience
I scored GMAT 770 (99TH Percentile). I graduated with high honors – in the top 5% of class as an Amy and Richard F. Wallman Scholar and was a student Managed Investment Fund Scholarship Recipient. I was an admissions fellow while at Booth, interviewing and reviewing the applications and resumes of almost 100 applicants. I was also a teaching assistant for Professors Emma Levine, George Wu, Burhaneddin Sandikci, Christopher Bryan, and Wexin Du.
Utah State University
Bachelors, Finance and Economics
I graduated with high distinction while working 40 hours/week to support myself and pay tuition. While at Utah State, I was on the Jon M. Huntsman Business Council as the VP of Professional Development. In this role, I led team of 4 as elected council member. I also met my wife at Utah State :)
Timothy was also personally admitted to
Kellogg School of Management (Northwestern)

Yale School of Management
---
Timothy has helped Leland clients get into Yale School of Management
---
Timothy has helped Leland clients get into Boston Consulting Group
Loading reviews...